More ROAS
Other ABM platforms keep the change when CPMs drop. Their fixed pricing strategy does nothing for you. Terminus passes savings to you.
Expanded Targeting
Want to target prospects by job title? Can't do it on other ABM platforms. Get more options for targeting with Terminus.
Less Fraud
Terminus has the lowest ad fraud rate on the market. Our rate is 85% lower than the industry average.
Premium Inventory
Terminus is the only ABM platform that offers premium ad inventory, including connected TV, audio, and video.
Expert DMMs
We built our platform for marketers, and while our competitors start their DMM teams, ours have been at it for years.
Residential Reach
With millions more unique accounts than other ABM platforms, Terminus helps you meet people everywhere they buy, at work and at home.
You might not believe it until you see it. Can we show you what Terminus can do?
Better Reach That's
More Reliable
Every dollar of spend matters. So smart marketers are looking for efficient, targeted advertising solutions. With the Terminus platform and our team guiding your strategy, you'll see better performance.
Demand more from your ABM platform
Chat with us
"
Unlike the experience I had with a competitor, the Terminus team cares about my success with ABM, not just my success with Terminus. I'm confident that I now have a partner at the forefront of the post-cookie marketing world.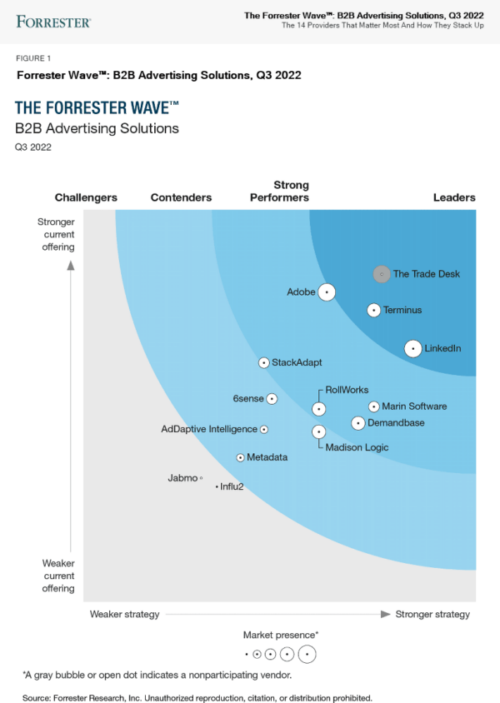 The Highest Ranked
ABM Platform
on the Market
We are the only ABM platform in 2022 to be recognized as a leader in Forrester's B2B Advertising Wave, Forrester's ABM Platform Wave, and Gartner's ABM Magic Quadrant. But this is no fluke, Terminus helped create the ABM category and we've been a G2 Leader in ABM for 17 consecutive quarters.
The ABM Buyer's Guide: What to look For and Which Questions to Ask
B2B Digital Advertising Benchmarks + Best Practices
Case Study: Array Influenced $5.6m in Revenue with Targeted Advertising
"
Terminus costs less than the competition and has more of the features my team needs. The Salesforce integration makes it easy for my sales team to get the info they need to execute on our target accounts.
"
Terminus is pretty easy to use. They have staff that are dedicated to helping you fully understand the platform as you are onboarding. Because they are there to walk you through the process, you can get tactics up and running in a matter of minutes.
"
What do I like best about Terminus? The Client Success team. I love the bi-monthly meetings with our Terminus team. They are super friendly and answer all of my questions and offer great ideas and things to try out.
"
Terminus allowed our organization to quickly know the value of an ABM platform with immediate success when we piloted our first campaign to a leading entertainment venue.