Fill your pipeline with the right prospects
Traditional inbound strategies don't move at the speed you need to grow. Cold calling won't get you there. Waiting for demo requests won't get you there.
You need to prioritize and activate best-fit accounts in your CRM, as well as identify net-new accounts you don't know about that match your ICP are showing in-market signals like purchase intent and web engagement.
Befriend and convert your next buyer
Is your ICP well-defined? By understanding what characteristics make up a good-fit customer, you can nurture the right buyers at the right accounts to create a stream of hand-raisers. Terminus can help you weed out bad accounts and reduce noise for your sales teams. When your prospects are ready to buy, you already know they're the right kind of customer.
"
Knowing you can't influence when a company is ready to buy, you want to be positive you are the best possible option in their eyes, or the person they trust the most when that decision comes up.
Start conversations with buyers that are ready to talk
Focusing on best-fit accounts that are visiting your website and researching solutions online allows you to add relevancy and personalization to marketing and sales outreach.
And by activating native Terminus channels like retargeting, LinkedIn ads, and conversational marketing, you'll be everywhere you need to be when the moment is right.
"
With Terminus, we saw a 2x increase in pipeline, 58% increase in opportunities created, 3x increase in revenue, and 173% increase in average deal size with our SMB accounts.
Optimize go-to-market at every stage
Companies' disproportionate focus on new business is understandable, but it's not enough to hit revenue goals on its own. Let us show you what you can do across the entire revenue flywheel with the right resources and impeccable timing.
Revenue Flywheel
Brand Awareness
Build Pipeline
Accelerate Pipeline
Retain Customers
Expand Customers
Brand Awareness
Build Pipeline
Accelerate Pipeline
Retain Customers
Expand Customers
Why Terminus?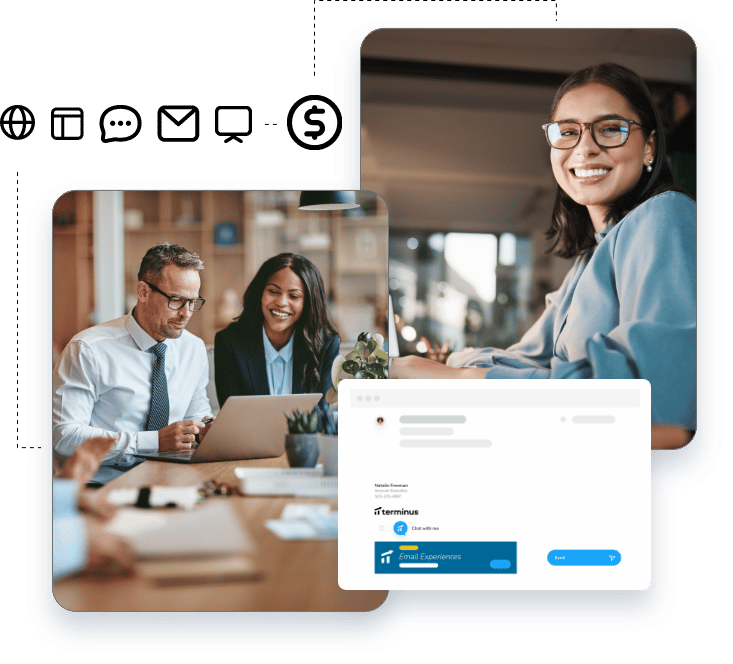 We built a B2B go-to-market platform with marketers in mind. Here's how we're different than the competition:
Best-in-class advertising with 60% lower CPMs and no fixed rates, 85% lower fraud rate and 90% brand safety
More ad targeting options, including title, department, and contextual
Privacy compliant and post-cookie proof advertising
The most native engagement channels of any ABM platform, including conversational marketing, web personalization, LinkedIn, connected TV, audio ads, and more
Expert digital, strategy, and support teams with years of experience supporting ABM efforts
Step-by-step playbooks for use cases across the entire customer lifecycle
The power of our platform
Assemble your ABM team
ABM Certification Course
Blueprint to Account-Based Marketing