We built our team for your ROI.
The Terminus platform puts immense power at your fingertips. But it's our expertise and experience that helps you tap into that power. We speak your language, so we can help you find solutions to your problems.
If your revenue engine isn't firing on all cylinders, ABM is a tune-up.
Changing budgets and economic uncertainties are real, and we have built Terminus to help you drive better efficiency with every resource.
We provide a 360-approach to ABM that was designed (and has been proven) to drive revenue and ensure success. Consider us your partner in ROI.
Our customer experience team is available along the way—from launching your first campaign to hitting your stride with our industry-leading playbooks—we're in your corner.
We've built a team of ABM experts to help you grow. If you need an assist in creative, strategy, or execution, we're ready to help.
Our team of digital marketers are programmatic advertising experts who will make you creative perform at the highest levels.
Our commitment to transparency means that we'll tell what isn't going well and help you strategize around how to fix it.
"
The software is impressive and the capabilities for execution and analytics far exceed our previous vendor. The thing I like best though has been the customer experience. From sales, to onboarding, to now working with our CSM it has been exceptional. Communication and training have been excellent and ensured a smooth transition and launch.
Why Terminus?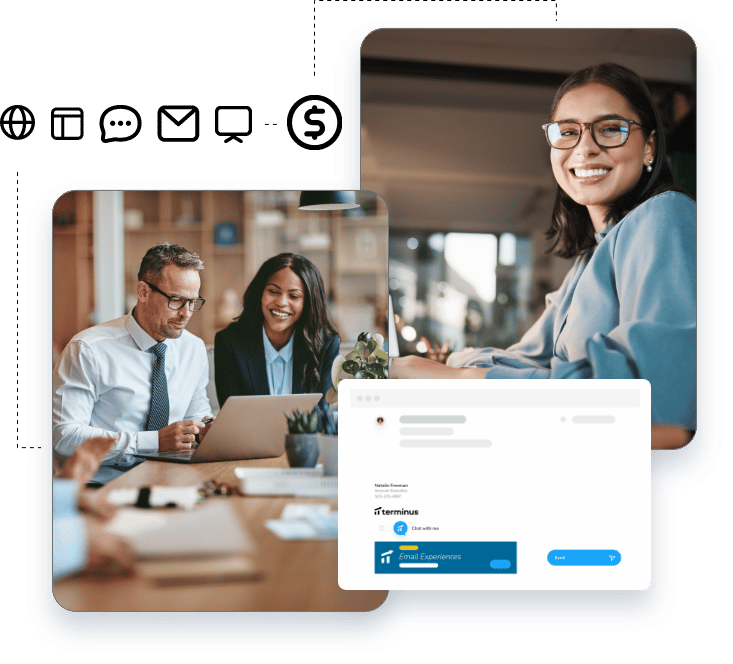 We built a B2B go-to-market platform with marketers in mind. Here's how we're different than the competition:
Best-in-class advertising with 60% lower CPMs and no fixed rates, 85% lower fraud rate and 90% brand safety
More ad targeting options, including title, department, and contextual
Privacy compliant and post-cookie proof advertising
The most native engagement channels of any ABM platform, including conversational marketing, web personalization, LinkedIn, connected TV, audio ads, and more
Expert digital, strategy, and support teams with years of experience supporting ABM efforts
Step-by-step playbooks for use cases across the entire customer lifecycle
ABM Benchmark Report
The Terminus ABM Benchmark Report was created to help ensure budget efficiency, give you confidence in your ads, and put you on a path to seeing those coveted upward trending lines on your performance graphs. We have some of the best B2B marketers in the universe using our platform and we know what works.
Array Customer Story
Multi-Channel ABM Starter Pack
Autodesk Rocks A Multi-Product ABM Strategy With Terminus