Positively rated
90%
Ad Network Integrations
100
different ad networks
74,000,000
unique accounts
Showcase your brand on these
premium networks

Create an Unforgettable
Ad Experience
Curate impactful buyer experiences with coordinated, personalized, and scalable multi-channel campaigns with Terminus. In the new work-from-home world, we are the best option for helping you reach your audience.
Grow Your Brand Across the World
Customize and personalize messages that reach over 690 million professionals at over 50 million companies by targeting them with content on LinkedIn, Display Ads, retargeting, Connected TV, and audio – directly from the Terminus platform.
Dynamically Target Accounts Based on Data
Ditch the traditional marketing funnel and make targeting decisions that are based on quality data. Reach accounts that are showing interest, based on intent, website engagement, relationship score, title, and lookalike audiences.
Focus and Optimize Spend
Terminus delivers 85% lower ad fraud, lower CPM than competitors, and better performance through contextual, IP, cookie, and global targeting.
Let Ad Experiences Work for You
With more ways to reach your intended audience, Ad Experiences takes your marketing strategy to the next level. Check out the video to learn how Dow Jones achieved ROI with Terminus Ad Experiences.
WFH Ready
Unlike other providers, Terminus' unique targeting technology makes sure your ads get in front of the right people – whether they're at home, on the road, or in the office.
LinkedIn Advertising
Leverage our direct integration with LinkedIn to create LinkedIn campaigns via Terminus. Target more companies and view campaigns performance alongside your additional campaigns directly in Terminus.
Precision Targeting
Some of the most brilliant digital advertising experts in the world work at Terminus and can optimize your ad strategy across the most robust ad network in the industry.
Contextual Advertising
Display ads are even more powerful when shown on websites that relate to topics you care about. Use Terminus to focus your spend on websites that are contextually relevant to your business and see even better results.
Retargeting
Retargeting is built right into Terminus, making it easy for you to advertise more efficiently and increase click-through rates up to 10x.
Transparent Ad Reporting
Get a clear view of how your ads are performing and influencing buying groups at the individual and account level. Our fraud rates are so low, we're not afraid to show you that either.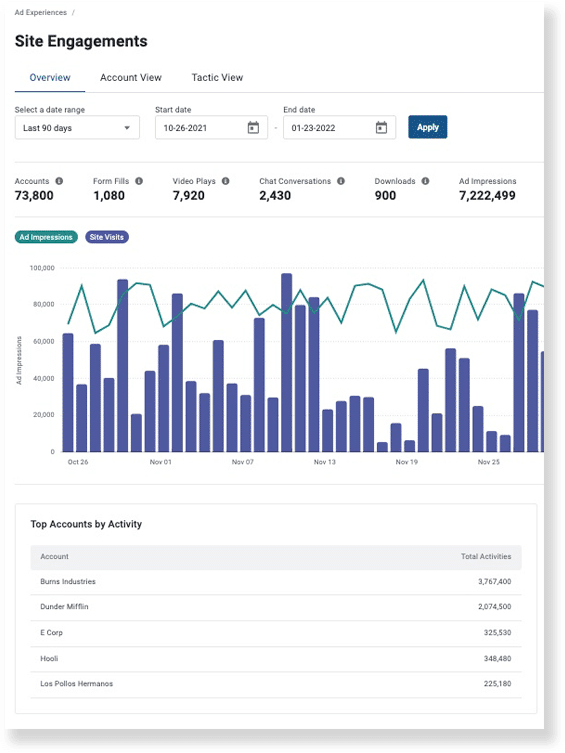 Connected TV
Drive engagement on high intent channels with targeted advertising and visually stunning videos on supported streaming platforms like Hulu.
Audio Advertising
Two out of three people consume more audio content monthly than any other channel. Generate interest, drive search volume, and increase brand awareness with Audio ads.
Request a demo
You might not believe it until you see it. Can we show you what Terminus can do?