Positively rated
90%
Ad Network Integrations
87%
Buyer Intent Data Integration
We are here to help drive ROI
We empower your team to drive ROI and support you with a team of creative humans, not just AI.
The marketing world is moving and changing faster than ever before. With the right people in your corner, you can achieve your goals. No matter where you are starting in your ABM journey, we have a team of experts to back you up.
"
Initially operating as a one-person ABM team, and now a two-person ABM team, the Terminus Pro-serve team has acted as a true extension of our team. We would not have been able to scale our campaigns and enable our sales team as quickly as we did if it weren't for this partnership. It's been absolutely fantastic to work with alongside the experts on the pro-serve team. 
Empowering and supporting your team is the name of the game. 
Our team becomes an extension of your team. And we have the best humans in the industry.
An onboarding team built to get you up and running in less than 30 days
The industry's only team of B2B digital media managers and programmatic advertising experts who maximize spend efficiency
An in-house creative team at your disposal for your design needs
A data services team committed to enriching your data, discovering new accounts and persona, keeping it current, and auditing data quality
A team of GTM strategy consultants to work alongside you while you grow and scale your campaigns over time
The support you need, when you need it.
Marketers are under intense pressure to be more efficient with every marketing dollar. Because we're marketers, we've built a team of human ABM experts to make it happen.
"
I've now been a Terminus customer at three companies, primarily due to their excellent processes, from sales to customer success. Their team does a great job of supporting customers in starting and ramping up ABM and helping ensure we're getting the most from the platform.
Why Terminus?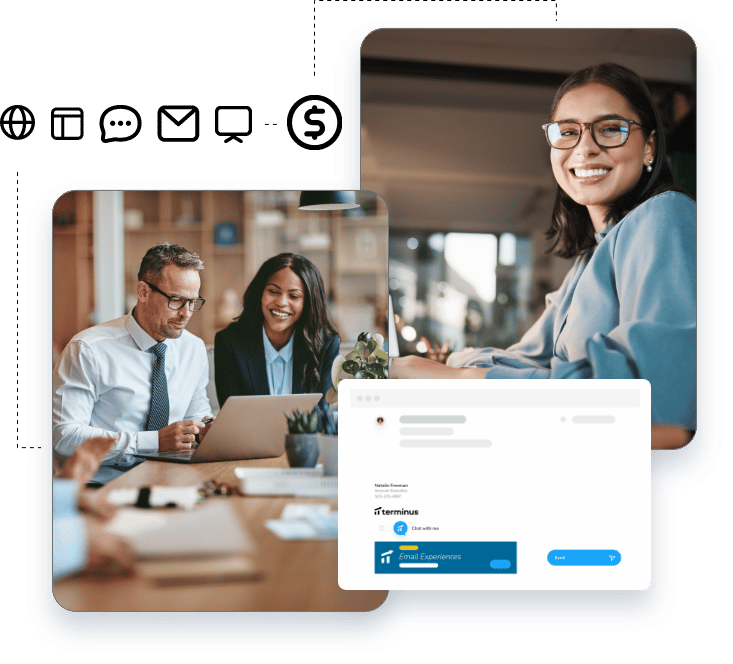 We built a B2B go-to-market platform with marketers in mind. Here's how we're different than the competition:
Best-in-class advertising with 60% lower CPMs and no fixed rates, 85% lower fraud rate and 90% brand safety
More ad targeting options, including title, department, and contextual
Privacy compliant and post-cookie proof advertising
The most native engagement channels of any ABM platform, including conversational marketing, web personalization, LinkedIn, connected TV, audio ads, and more
Expert digital, strategy, and support teams with years of experience supporting ABM efforts
Step-by-step playbooks for use cases across the entire customer lifecycle