Renewal isn't a single conversation.
It's a mindset.
If asking your customer about renewal feels awkward, you haven't built the foundation you need.
Terminus makes it simple to get ahead of that conversation by segmenting customers based on renewal date, at-risk status, product package, or any other first-party data point. And then you can create surround-sound digital experiences that are tailored to their needs.
Consider your Customers Off-The-Market
With intent data powered by Bombora, Terminus can alert you when customers begin to show buying signals in the marketplace. While they might not tell you openly that they're researching competitors, you can stay one step ahead.
So whether you're up against marketing noise from direct competitors, or customers are unaware of your full offering and are searching for alternatives, you can serve the right messaging at just the right time.
"
In just one year of running ABM with Terminus, we increased our renewal rates by 28%.
Aligning skills to maximize retention
While the link between GTM activity and retention has often felt like a black box, Terminus reporting delivers insight into how efforts from marketing, sales, and customer success are improving retention and revenue growth. In the absence of traditional metrics like form fills or demo requests, stronger customer marketing doesn't just justify this level of insight, it demands it.
"
"Shaped for today's and tomorrow's marketer"
Optimize go-to-market at every stage
Companies' disproportionate focus on new business is understandable, but it's not enough to hit revenue goals on its own. Let us show you what you can do across the entire revenue flywheel with the right resources and impeccable timing.
Revenue Flywheel
Brand Awareness
Build Pipeline
Accelerate Pipeline
Retain Customers
Expand Customers
Brand Awareness
Build Pipeline
Accelerate Pipeline
Retain Customers
Expand Customers
Why Terminus?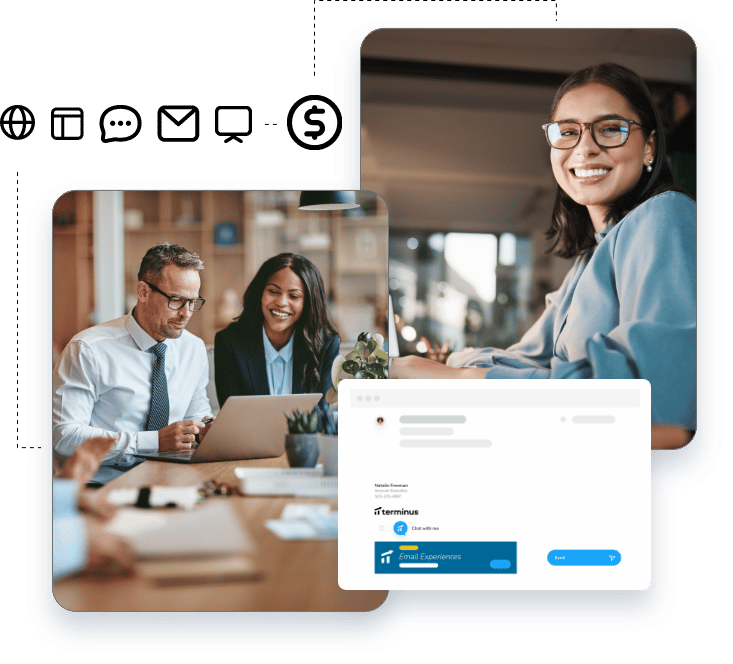 We built a B2B go-to-market platform with marketers in mind. Here's how we're different than the competition:
Best-in-class advertising with 60% lower CPMs and no fixed rates, 85% lower fraud rate and 90% brand safety
More ad targeting options, including title, department, and contextual
Privacy compliant and post-cookie proof advertising
The most native engagement channels of any ABM platform, including conversational marketing, web personalization, LinkedIn, connected TV, audio ads, and more
Expert digital, strategy, and support teams with years of experience supporting ABM efforts
Step-by-step playbooks for use cases across the entire customer lifecycle
The power of our platform
The ABM Buyer's Guide
ABM Benchmark Report: B2B Digital Advertising
The Forrester Wave™: B2B Advertising Solutions, Q3 2022 report