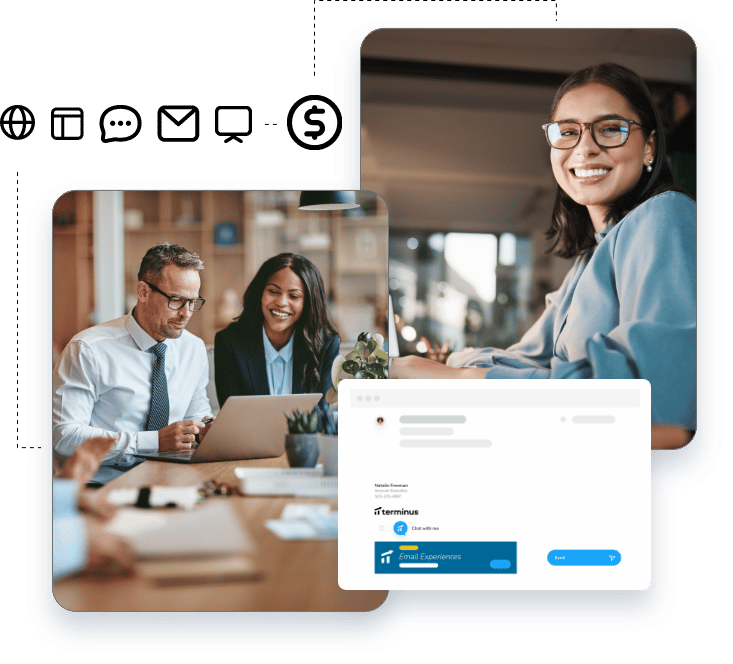 Give your sales team an advantage in competitive environments
Your prospects and your customers both hear from your competition. If you're not participating in that conversation, you'll fall behind. Terminus makes it simple to deliver timely and contextual insights to reps, bringing marketing, sales, and customer success into true alignment.
No more fingers in the wind. This is how you forecast.
Sometimes, the frustration of not hitting numbers starts with guesswork forecasting and ends with poor attribution. Terminus changes that. With us, you'll get accurate, actionable insight into pipeline growth and marketing influence so you can start thinking quarters ahead.
Let's grow from wherever you are.
The beauty of a true ABM platform is the ability to scale your strategy to fit your current needs. Our customer success team helps you build at your own pace along the "crawl-walk-run" scale.
Hope is not a strategy for NRR growth, either. See how our solution can help you.
Optimize marketing at every stage
Companies' disproportionate focus on new business is understandable, but it's not enough to hit revenue goals on its own. Let us show you what you can do across the entire revenue flywheel with the right resources and impeccable timing.
Revenue Flywheel
Brand Awareness
Build Pipeline
Accelerate Pipeline
Retain Customers
Expand Customers
Brand Awareness
Build Pipeline
Accelerate Pipeline
Retain Customers
Expand Customers
Best-in-class advertising to boost ROI
Better targeting, world-class intent data, and the ability to scale and report on campaigns gives you the insight into performance you're always wished for.
"
With Terminus, we were able to see who in our target audience was researching our solution. Then, we could target the decision-makers at those accounts with relevant, personalized ads which helped us double our clickthrough rate and get more demos on the books.
"
With this software, it is straightforward to target the most genuine audience for your business. Easy to integrate and collaborate with your companies Salesforce dot com, and helps you to analyze all the data and the database for the same. Its impressive reporting feature allows you to generate the most accurate documentation.
The Crawl, Walk, Run Multi-Channel ABM Playbook
Assemble Your ABM Team
Build a Business Case for ABM