The Power of Conversation
Terminus Chat Experiences is transforming the way companies engage with their prospects and customers. Our powerful chatbot creates a more relevant buyer journey the moment someone lands on your website. With Chat Experiences, you'll convert more qualified visitors, route leads to your sales team faster, and book more meetings.
Connected with Qualified Leads
Book meetings 24/7 with the built-in calendar scheduler
Intelligently qualify inbound traffic and collect visitor data
Trigger sales automation and engagement using your connected tech stack
Intent at the Highest Level
Build relevant playbooks that guide prospects through the buying cycle
Proactively engage key accounts the moment they land on your website with Live View
Turn every marketing touchpoint into a conversation with Chat From Anywhere™
Convert Target Accounts
Run orchestrated campaigns specifically for your ABM target accounts
Intuitively construct playbooks linearly or visually using the Hybrid Playbook Builder based on segment, product intent, or industry.
Instantly route inbound chats to the responsible rep
Native Multi-Channel ABM Drives Better Results
Create impactful buyer experiences with coordinated, personalized, and scalable multi-channel campaigns with Terminus. Use Chat Experiences to weave in relevant playbooks that guide buyers through the entire funnel. Sophisticated targeting and routing allows you to build out your existing ABM strategy to proactively reach out to your top accounts at the right time with the right content.
Your ads are more effective when paired with Terminus Chat Experiences. Need proof?
700%
increase in target account engagement over advertising alone.
1,600%
increase in conversations over advertising alone.
Profisee amped up their demo page with Terminus Chat Experiences
In just 45 days, Profisee's most popular chatbot (on their demo page), drove:
41%
increase in booked meetings/demos
55%
increase in booked meetings/demos when live chat interaction took place
Leverage Chat Through the Entire Funnel
Chat Experiences provides robust tools built for your full go-to-market team to help power your account-based conversational marketing strategy.
Chat From Anywhere™
Add Terminus' patent-pending Chat From Anywhere™ button to every touchpoint to allow your audiences to open a direct chat with you in a single click.
Terminus Mobile App
Book meetings and answer customer questions from anywhere – between meetings, in line at the coffee shop, or on an airplane – with the Terminus Mobile App.
Live View
See the accounts visiting your website in real-time so you can spark up a meaningful conversation between the account and the most appropriate person on your team."
Hybrid Playbook Builder
Build intuitive and immersive chatbot experiences – linearly or visually – that deliver on customer expectations while capturing all the customer data you need.
Conversation Routing
Chat Experiences identifies your visitors and, if they're an assigned account, will instantly route them to the responsible rep.
Chat Info Panel
Link your Terminus Platform data and connect your tech stack to automatically pull in account information based on a single piece of data in real-time.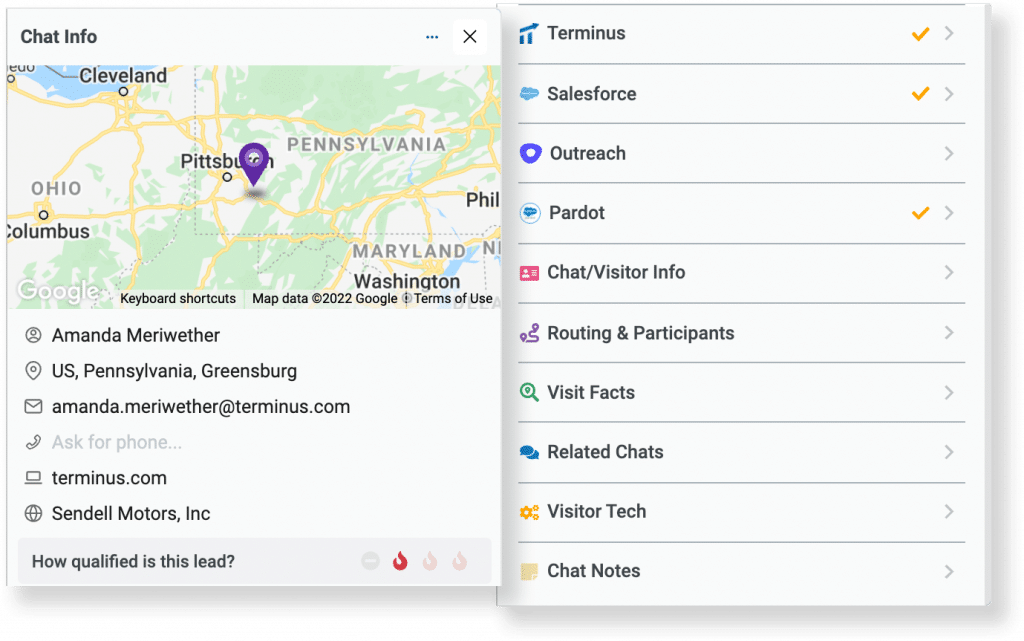 Analytics &
Reporting
Terminus Chat Experiences includes over 50 out-of-the-box reports to show the full value of chat and help you optimize your conversational marketing strategy. Gain insight into which plays are getting the most use and uncover how productive your chatbot and human interactions are.
Powerful Chat Integrations
Chat Experiences is native to the Terminus platform, but you can buy it on its own. It will fully integrate with your sales automation platform, your marketing automation platform, and your CRM.
Terminus Chat is integrated with:
It's time to see the only conversational marketing tool purpose-built for ABM in action!