Listen to what your customers are searching for.
If your customers are showing in-market buying signals, Terminus makes that insight actionable. You can even map campaigns to triggers like customer renewal date, so you can have more control of important conversations and milestones. Not to mention, you can open doors by expanding into new business accounts by nurturing broader buying committees.
Say goodbye to "Oh, I didn't know you guys did that."
It's far too common. A customer gets frustrated—or worse, shops competitors—because they aren't aware of a solution that you offer. By keeping your customers aware of your full product lineup with targeted ABM plays, those conversations will be a thing of the past.
"
Using data and insight into who is seeing our ads, we have been able to work lock step with sales to drive intelligent prospecting with 86% of our targeted accounts seeing a Terminus Ad. They went from "Who the heck is Telaid?" to "I know Telaid, tell me more!" while also putting on an expansion master class with a 15% increase in accelerated revenue for top accounts.
Turn marketing, sales, and customer success into a three-headed selling monster.
When you give your teams a full view into customer engagements across the GTM experience, you can get the right solution to the right buyer at the right time. This is valuable when going after new business, but it's a complete game changer when you're using it to nurture customers.
A rich reporting suite shows how efforts impact expansion pipeline and revenue, and you can track close rate, ARR lift and more across all of your expansion campaigns.
"
Terminus helps us reach our prospects and customers where they are. It has helped us drive interest in our product and create upsell opportunities with current customers.
Optimize go-to-market at every stage
Companies' disproportionate focus on new business is understandable, but it's not enough to hit revenue goals on its own. Let us show you what you can do across the entire revenue flywheel with the right resources and impeccable timing.
Revenue Flywheel
Brand Awareness
Build Pipeline
Accelerate Pipeline
Retain Customers
Expand Customers
Brand Awareness
Build Pipeline
Accelerate Pipeline
Retain Customers
Expand Customers
Why Terminus?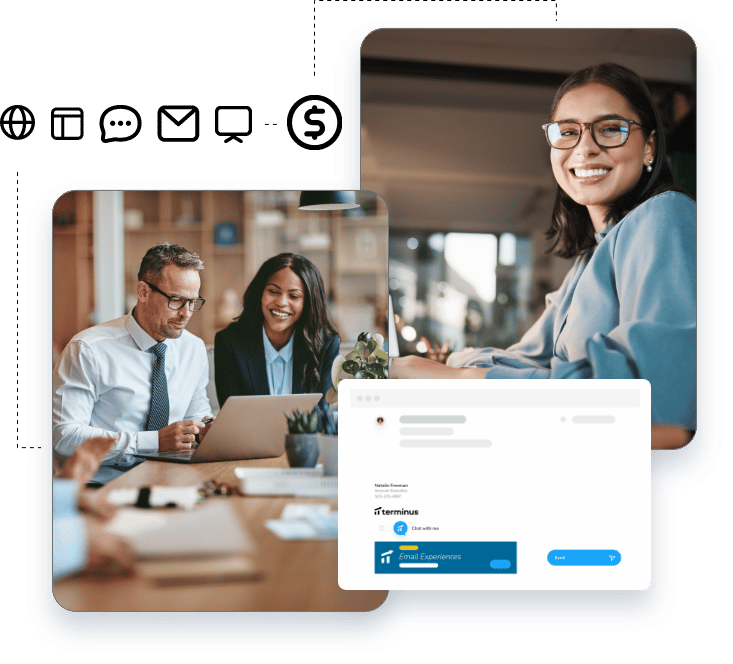 We built a B2B go-to-market platform with marketers in mind. Here's how we're different than the competition:
Best-in-class advertising with 60% lower CPMs and no fixed rates, 85% lower fraud rate and 90% brand safety
More ad targeting options, including title, department, and contextual
Privacy compliant and post-cookie proof advertising
The most native engagement channels of any ABM platform, including conversational marketing, web personalization, LinkedIn, connected TV, audio ads, and more
Expert digital, strategy, and support teams with years of experience supporting ABM efforts
Step-by-step playbooks for use cases across the entire customer lifecycle
The power of our platform
The Crawl, Walk, Run Multi Channel Playbook
The Forrester Wave™: B2B Advertising Solutions
How to Convince Your Boss to Give ABM a Chance