You can influence deal velocity with Terminus.
With our tools and expert assistance, you'll build programs, channels, and strategies paired with your content strategy to get prospects un-stuck in the stickier parts of your sales process.
Every part of your strategy can be refined as you discover where, when, how, and why your ICP is buying. Now you can lay the groundwork for faster, more valuable deals—starting now.
Buying committees are bigger than ever. Don't leave anyone out.
Terminus helps you get into the accounts that match your ICP, and once inside, you can target people who hold decision-making power. Surround the entire buying committee with personalized messaging and content based on their individual needs. Turn hurdles into handshakes.
With Terminus, it's simple to keep decision-makers looped in. And when the right people become your advocates, relationships can grow and deepen.
"
Using data and insight into who is seeing our ads, we have been able to work lock step with sales to drive intelligent prospecting with 86% of our targeted accounts seeing a Terminus Ad. They went from "Who the heck is Telaid?" to "I know Telaid, tell me more!" while also putting on an expansion master class with a 15% increase in accelerated revenue for top accounts.
What if sales and marketing reported on the same revenue metrics?
We're done dreaming about it.
ABM is a team sport, and when sales and marketing are aligned from the first touchpoint through the last, good things happen. Terminus serves you by making reporting simple, but also by increasing visibility between marketing initiatives and desired sales actions.
"
We are able to target the right people at the right time and really provide them with the information that they need at the time they need to hear it. As a result, we have increased open opportunities at new speeds.
Optimize go-to-market at every stage
Companies' disproportionate focus on new business is understandable, but it's not enough to hit revenue goals on its own. Let us show you what you can do across the entire revenue flywheel with the right resources and impeccable timing.
Revenue Flywheel
Brand Awareness
Build Pipeline
Accelerate Pipeline
Retain Customers
Expand Customers
Brand Awareness
Build Pipeline
Accelerate Pipeline
Retain Customers
Expand Customers
Why Terminus?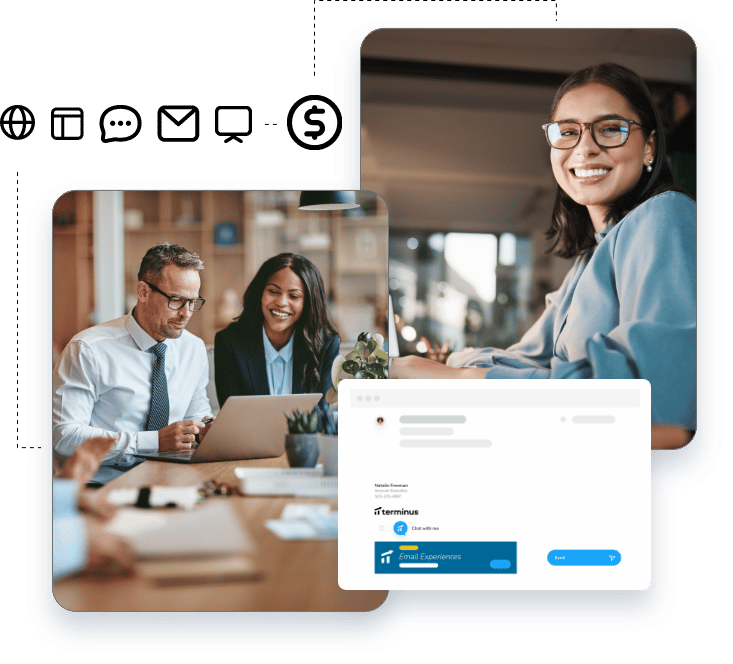 We built a B2B go-to-market platform with marketers in mind. Here's how we're different than the competition:
Best-in-class advertising with 60% lower CPMs and no fixed rates, 85% lower fraud rate and 90% brand safety
More ad targeting options, including title, department, and contextual
Privacy compliant and post-cookie proof advertising
The most native engagement channels of any ABM platform, including conversational marketing, web personalization, LinkedIn, connected TV, audio ads, and more
Expert digital, strategy, and support teams with years of experience supporting ABM efforts
Step-by-step playbooks for use cases across the entire customer lifecycle
The power of our platform
How to Convince Your Boss to Give ABM a Chance
The Crawl Walk Run Multi Channel Playbook
Blueprint to Account-Based Marketing