Ever think your email signature is ignored or overlooked? Think again. This little slice of digital real estate is getting more and more attention (for better or for worse). When done well, it can be an extension of your company's brand and serve as a new way to distribute content. But when it misses the mark, it could spur a variety of emotions (laughter, anger, distrust, judgment, etc.) from your audience.
Thumbing through examples of bad email signatures is fun (a lot fun actually). Reading the commentary about funny email signature fails is even more fun. And you can definitely get your pick in the Twittersphere. So we decided to scroll through the many tweets in 2016 about email signatures and share our favorites. As we gathered more and more tweets, a few themes started to form.
The Cause & Effect of Using Comic Sans
Effect: Your email moving to the trash bin
Effect: None (or a no-reply)
Effect: Loss of all credibility amongst your peers
Effect: Automatic disqualification from all future opinions
Effect: Trust issues
Misspelling Your Recipient's Name
We feel you, Patrick. Trust has to be established before abbreviated names occur.
Bonus points to Kirthi for the perfect GIF reaction in this situation.
The Dreaded Inspirational Quote
Jason is right. It's Monday…relax people.
Ally authored her own famous quote to show how she really feels about this issue. Well done.
We appreciate your honesty, Abigail.
The trust issues continue…
Valid question, Alexis.
We're proud of you too, Texas Pro.
We sense some sarcasm here…
Other/Miscellaneous
1994 called. They asked if you could please remove your fax number…
We love Peter's perspective above, but Craig took it to a whole new level.
We're sorry, Charlie! We love the idea of central control over the company's email signature (except when the admin starts playing pranks).
Credentials are important – especially grade school accomplishments.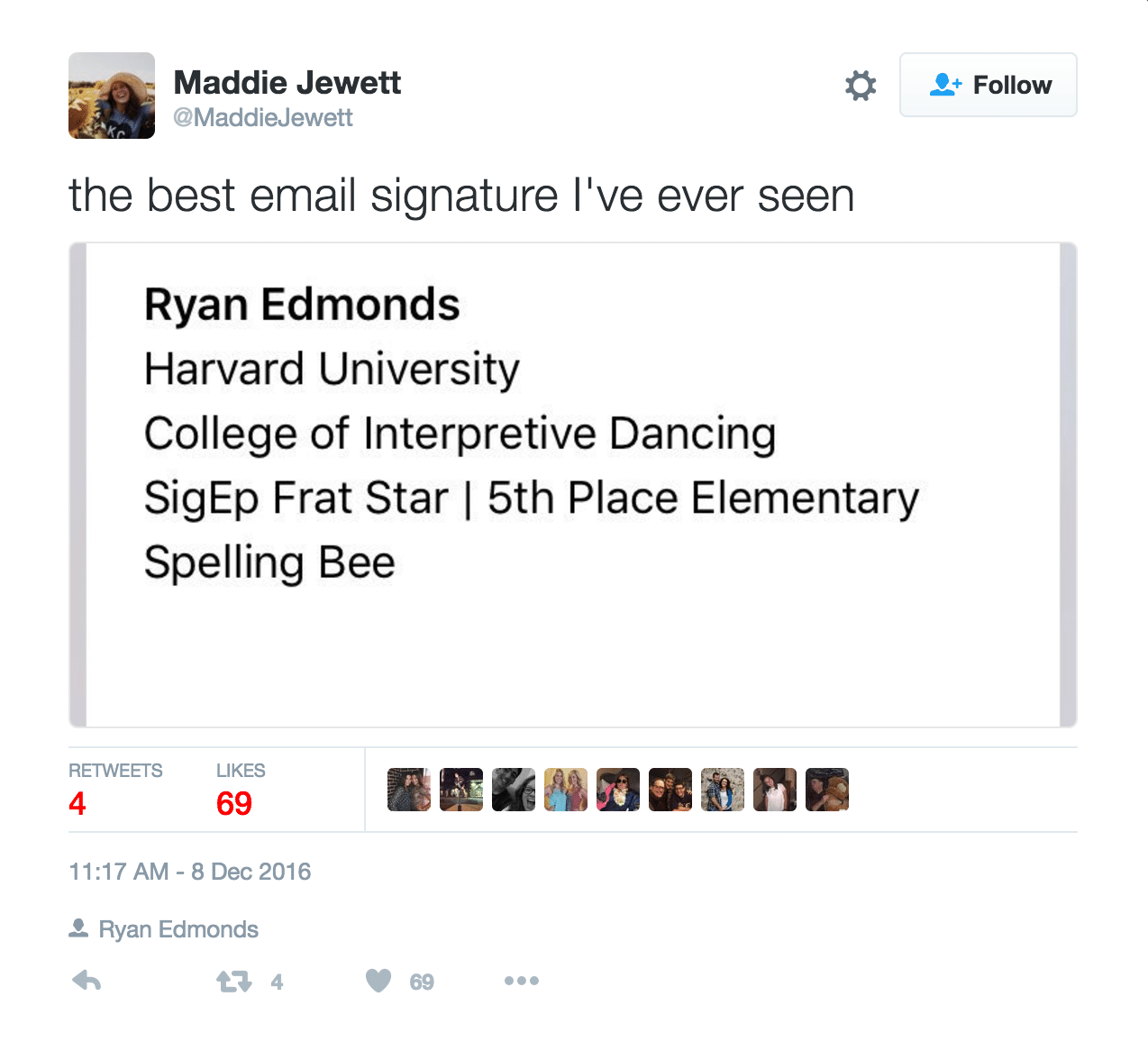 100% agree. Take the time to remove "Sent from my iphone" from your mobile email signature.
This popular tag line doesn't always work for certain types of businesses.
If you find out what Vikings like to drink, let us know. We'll open a tab too…
Shelby-lyn, we hope you're kidding.
As fellow Cubs fans, we fully appreciate and support this move.
We have never felt more #blessed reading about this funny email signature (and laughing). Now show us the actual picture!
Some people have zero tolerance for long email signatures.
Ever dream of funny email signature typos and wake up in a cold sweat? We do, too.
Attached images are the worst…
Make sure you take the time to build an email signature in your settings. Otherwise some people might get very offended…
This is one of the more outrageous examples we found, but we absolutely love it.
And finally…Margaret sums it up best.
Let's face it, perfecting your email signature IS hard. Especially for those brand managers or marketing directors who are asked to manage their company's email signature for 50+ employees.
That's where Sigstr comes in! Let us know how we can help make your job just a little easier by standardizing company-wide email signatures (and bonus: using it as a new content distribution channel).