An targeted go-to-market (GTM) strategy is not just a fad; it's a necessity for sales teams aiming to thrive.
Account-centric GTM is the roadmap that guides sales teams towards the most lucrative opportunities, ensuring they stay agile and effective in a rapidly evolving market environment. The result is a streamlined approach that enables sales leaders to not only close more deals but also close them faster.
Drive informed decision making
By integrating and enriching both first-party and third-party data, sales professionals are enabled to make informed decisions that drive success. This eliminates guesswork, allowing you to focus efforts on accounts with the highest potential, streamline workflows, and maximize the impact of interactions.
Terminus drives increased meeting volume, faster pipeline velocity, and larger average deal size.
With accurate and comprehensive information at their fingertips, sales leaders gain the confidence to pursue the most promising accounts. With unlocked understanding of the unique intent and demand of target accounts, sales teams are empowered to close deals faster.
Make your team look great. Learn how.
Whatever your role, we have the tools and team to help you succeed, and the data you need to prove it.
Optimize go-to-market at every stage
Companies' disproportionate focus on new business is understandable, but it's not enough to hit revenue goals on its own. Let us show you what you can do across the entire revenue flywheel with the right resources and impeccable timing.
Revenue Flywheel
Brand Awareness
Build Pipeline
Accelerate Pipeline
Retain Customers
Expand Customers
Brand Awareness
Build Pipeline
Accelerate Pipeline
Retain Customers
Expand Customers
"
"Terminus allows us to easily create target account lists by tracking and aggregating first-party and third-party account intelligence data all in one place. Before Terminus, it was extremely difficult to create effective target account lists. Terminus saved us tons of hours manually compiling different data points across multiple platforms. The Terminus modules in Salesforce also make the data more meaningful and digestible. It helps our sales team quickly identify and prioritize accounts and contacts to target. Our sales team also has better insights into customer behaviors and can tailor their outreach based on interests."
Why Terminus?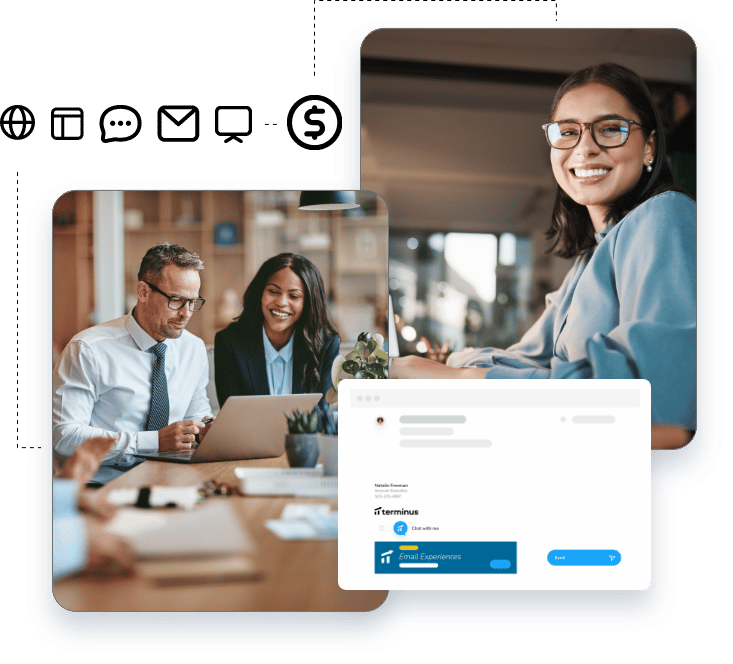 We built a B2B go-to-market platform with marketers in mind. Here's how we're different than the competition:
Best-in-class advertising with 60% lower CPMs and no fixed rates, 85% lower fraud rate and 90% brand safety
More ad targeting options, including title, department, and contextual
Privacy compliant and post-cookie proof advertising
The most native engagement channels of any ABM platform, including conversational marketing, web personalization, LinkedIn, connected TV, audio ads, and more
Expert digital, strategy, and support teams with years of experience supporting ABM efforts
Step-by-step playbooks for use cases across the entire customer lifecycle
Assemble your ABM Team
Telaid Case Study
The ABM Buyer's Guide